Andrea J. Goodwin serves as the Director of the Office of Student Conduct at the University of Maryland.  She has over 20 years of experience in higher education administration with a focus on student conduct, academic integrity, crisis management, and law & policy issues in student affairs. For nearly 10 years Andrea was responsible for overseeing the Code of Academic Integrity and the Student Honor Council at the University of Maryland.  She is a member of the Behavior Evaluation and Threat Assessment (BETA) team, and also served as a Process Consultant in the Center for Leadership and Organizational Change for several years.  Andrea served on the Board of Directors of the Association for Student Conduct Administration as the first Director of Membership and is currently the Gehring Academy Chair.  Prior to her work in Student Conduct, she held various positions in Student Affairs. She also serves as the Co-Advisor to Primannum Honor Society and as a Deputy Title IX Coordinator. Dr. Goodwin earned a Bachelor of Science degree from the Whitman School of Management and a Master of Science degree in Higher Education Administration from the School of Education at Syracuse University. She earned a Doctor of Philosophy degree in Education Policy, Planning, and Administration from the University of Maryland.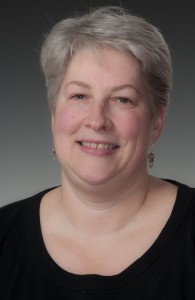 Andrea Seabert Olsen serves as faculty and as a campus resource for conflict resolution at The Evergreen State College, a small public four-year liberal arts college that is "alternative." No grades, no majors, and students typically take all 16 credits each quarter in a team-taught interdisciplinary learning community. Evergreen has been using restorative justice as a framework for more than two decades. Andrea is committed to helping grow community minded citizens, working toward a socially just and sustainable future that is vibrant and life-affirming. She looks for opportunities for transformative conversation to develop the whole person.
Andrea received her Master of Social Work from the University of Washington with a specialization in Medical Social Work. She has expertise in mental health, trauma, and end of life issues. She has a passion for restorative justice, conflict resolution, and alternative dispute resolution. In her spare time, she directs an all-volunteer non-profit that provides a camp for girls who have been sexually abused.
Track Chairs

Dr. Lee Bird currently serves as the Vice President for Student Affairs at Oklahoma State University-Stillwater and leads numerous functional areas, including the Student Union, Campus Life, University Counseling, University Health Services, Career Services, Dining, Residential Life and the Department of Wellness. Dr. Bird is an adjunct professor in OSU's Student Development graduate program. She received her Ph.D. from the University of Arizona in 1991. She has worked in some aspect of student affairs for 40 years.
Dr. Bird served as the President of the National Board of Directors for the Association of Student Judicial Affairs (now ASCA) and co-authored The First Amendment on Campus: A Handbook for College and University Administrators (2006), published by NASPA. In addition, she has authored and co-authored numerous book chapters on responding to emergencies and the First Amendment.
Dr. Bird received both the Donald D. Gehring Award and the Parker D. Young Award for her work with the ASCA. She served on the University of Vermont's Board of Advisors for the Legal Issues in Higher Education conference for over a decade. Dr. Bird consults and speaks regularly on topics such as student development, student conduct, campus threat assessment, crisis management and the First Amendment rights of students. Bird previously served as the Vice President of the Colorado Chapter of the Association of Threat Assessment Professionals. She is a member of Phi Beta Delta Honor Society for International Scholars in recognition of her work in Chinese higher education. In 2017 Bird was named an Honorary Professor at the University of Science and Technology in Beijing, China. Bird serves as the chair of the OSU Behavioral Consultation Team and is a FEMA, CERT and Incident Command Instructor Trainer.
Dr. Bird serves on a number of civic and professional boards including the Oklahoma State Regents for Higher Education, Council on Student Affairs and the Governors Campus Safety and Security Task Force and The Central Oklahoma American Red Cross.
Mackenzie Wilfong earned her Bachelors of Arts from the University of Oklahoma where she graduated Phi Beta Kappa, she received her Juris Doctorate degree from Southern Methodist University's Dedman School of Law.  Following law school, Mackenzie practiced litigation at a national law firm in Kansas City where she specialized in Education and Employment Law, practicing in both Kansas and Missouri.  After leaving private practice, she joined the United States Department of Education, Office for Civil Rights as a federal enforcement attorney investigating allegations of harassment and discrimination in educational institutions in a five state region.  Most recently, Mackenzie was Associate General Counsel for the Board of Regents of the Oklahoma State University and Agricultural and Mechanical Colleges, representing nine Colleges and Universities across Oklahoma.  Currently, Mackenzie is the General Counsel for Tulsa Community College, which serves over 25,000 students on four campuses in Tulsa County.  She is also a Board member of Oklahoma Center for Community and Justice.